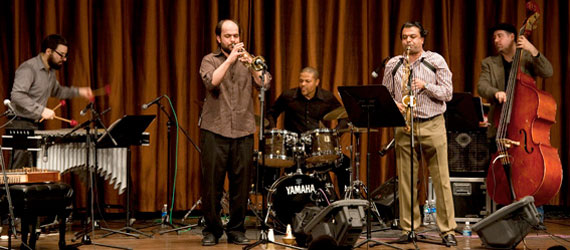 Iraqi Jazz Fusions: Amir ElSaffar's Two Rivers
Listen Now download Subscribe (itunes) Subscribe (rss) help


Amir ElSaffar, trumpet, santur, voice
Rudresh Mahanthappa, saxophone
Nasheet Waits, drums
Carlo DeRosa, bass
Jason Adasiewicz, vibraphone
This concert was made possible, in part, through support from the Center for Contemporary Arab Studies, Georgetown University.
Program
1. Maqam Kurd (0:00–14:20)
Maqam Kurd is one of the eight groups of melodic modes (maqamat) of Arab and Iraqi music. It takes its name from the Kurdish people of eastern Turkey, northern Iraq, and northwestern Iran.
2. Trumpet solo (14:20–16:30)
3. Maqam Bayat (16:30–24:55)
4. Al-Badia (24:55–27:44)
5. Blood and Ink (excerpt; 27:44–50:50)
This movement begins with maqam Awshar, sung to a classical Arabic poem which translates:
Plenty of peace upon the abode of peace [the original name of Baghdad]
And blame that there is much for which to blame
O Baghdad, I love no city as I love you
and I have no other than the mother of Iraq
The movement is a form of collective expression of aneen (weeping) based on maqam mukhalif, which is said to have originated in the aftermath of the 1258 massacre of Baghdad, led by Genghis Khan's grandson, Hulagu. Mukhalif is based on the gasping sighs of the survivors as they dug through bodies, searching for their loved ones. The streets are said to have run red with the blood of those killed and black with the ink of the books of the Grand Library that were drenched in water.
6. Blues in E half-flat (50:50–1:04:03)
This movement is the sound of resurrection and a reminder of the resilience of the human spirit. It is also a reminder of the microtones that are part of blues music. The E half-flat functions simultaneously as the "neutral third" or "blue note" of the C blues and as the tonic of the mode maqam Iraq (whose lower notes are E half-flat, F, G, A half-flat). The maqam and the blues draw upon universal feelings that exist across cultures. The wailing cry, pain, hope, and renewal are at the essence of maqam and of the blues, and it is on this level that the different traditions find their common ground.
Notes on the Program
In 2002, Iraqi-American jazz and classical trumpeter Amir ElSaffar put his New York career on hold to study the music of his father's ancestral past. He traveled to Iraq, throughout the Middle East, and to Europe to learn from master artists who could teach him the centuries-old tradition of the Iraqi maqam, the classical Arab system of melodic modes and compositions that is one of Iraq's great artistic legacies.
He became versed in Iraqi maqam, learned to sing its modes and melodies, and studied the santur (hammered dulcimer). Now he leads Safaafir, the only ensemble in the United States performing Iraqi maqam. At the same time, he developed new techniques for the trumpet in order to produce the kinds of microtones and ornaments characteristic of Arab music. In 2006, ElSaffar applied his knowledge of Iraqi-Arabic music to jazz.
His Two Rivers Suite invokes ancient Iraqi musical traditions and frames them in a modern jazz setting. The compositions are based on Iraqi maqam melodies, each of which is believed to have a unique spiritual essence, or ruhiyya, and to embody an aspect of Iraq's history and culture. Each ruhiyya can be understood as a loose melody: malleable, free, and open to interpretation and variation but, at the same time, distinct and recognizable. Singers improvise and composers write songs, creating endless possibilities but always maintaining the original feeling of the ruhiyya. The movements of Two Rivers Suite are based on various ruhiyya from the Iraqi maqam repertoire, providing a point of departure for composition and improvisation. Each section explores a different mode of interaction between Arab music and jazz, blurring the lines that typically distinguish conventional "jazz," "Arab," or "Iraqi" sensibilities.
These maqam melodies often contain non-Western tunings and are set to heavy grooves, free jazz-like ensemble playing, and multi-layered sound textures. ElSaffar and his Two Rivers ensemble meld styles and cross-pollinate the languages of ancient and modern, East and West. ElSaffar's compositions are some of the first in jazz to make use of Arab modality and its non-Western tunings. Two Rivers is a journey through Iraq's glorious and tragic past and present. It expresses ElSaffar's personal struggle as an Iraqi American watching his father's homeland in turmoil and destruction.
The CD of Two Rivers (Pi Recordings, 2007) was named to top-ten lists for jazz recordings by the Boston Globe and Philadelphia City Paper and was runner-up for top debut jazz release in the Village Voice.
This concert was made possible, in part, through the support of the Center for Contemporary Arab Studies, Georgetown University.
Performers
Amir ElSaffar (trumpet, voice, santur) is an Iraqi-American trumpeter who has performed jazz and classical trumpet with the likes of Cecil Taylor, Rudresh Mahanthappa, Vijay Iyer, and Daniel Barenboim. He is a past winner of the Carmine Caruso International Jazz Trumpet Competition. ElSaffar also has composed for theater projects, including the Wilma Theater's productions of Heather Raffo's Nine Parts of Desire and Wajdi Mouawad's Scorched. He was selected to perform in the Kennedy Center's upcoming festival, Arabesque: Arts of the Arab World, with Heather Raffo and singer Gaida Hinnawi, among others. He has composed, improvised, and performed on several film soundtracks and appeared in Jonathan Demme's film, Rachel Getting Married, which earned an Academy Award nomination.
Rudresh Mahanthappa (saxophone) is a Guggenheim fellow who has been awarded numerous grants and honors for his groundbreaking cross-cultural musical explorations. He tours internationally with seven different ensembles, several of which he leads or co-leads. He has been named a "Rising Star" of the alto saxophone by the Down Beat International Critics Poll for each of the past four years. All three of his recent recordings have received strong critical acclaim. His 2006 release, Kinsmen, was commissioned by the Rockefeller Foundation and named one of the top jazz albums of the year by the New York Times, Village Voice, National Public Radio, and BBC, among others. It reached number seven on U.S. jazz radio charts and number one in Canada. He performed the music in concert at the Freer Gallery in 2007.
Nasheet Waits (drums) began studying with encouragement from his father, percussionist Freddie Waits, his long-time teacher Michael Carvin, and his mentor Max Roach. Nasheet has recorded and performed with such jazz legends as Geri Allen, Mario Bauza, Hamiet Bluiett, Ron Carter, Marc Cary, Steve Coleman, Stanley Cowell, Andrew Hill, Bill Lee, Jackie McLean, Fred Hersch, Joshua Redman, and Vanessa Rubin, as well as the New Jersey Symphony Orchestra. He was a member of the all-star percussion orchestra, M'BOOM (collaborating with Tony Williams and Ginger Baker, among others). As an original member of pianist Jason Moran's Bandwagon, Nasheet was called part of "the most exciting rhythm section in jazz" by JazzTimes; and Bandwagon's 2001 recording Black Stars was named the best jazz CD of 2001 by JazzTimes and the New York Times.
Carlo De Rosa (bass) has worked with such greats in jazz and Latin music as Ravi Coltrane, Ed Thigpen, Steve Turre, and Papo Vasquez. He has appeared at many of the most prestigious jazz festivals and venues in the United States, Europe, and Latin America. In 1999, he toured Africa as a "U.S. Jazz Ambassador," with performances in South Africa, Mauritius, Madagascar, Kenya, Tanzania, and Zimbabwe. De Rosa has a master's degree from the Manhattan School of Music and regularly teaches workshops and clinics at New York arts institutions.
Jason Adasiewicz (vibraphone) is prolific member of Chicago's jazz and improvised music scene. He is a member of more than twenty working bands, including Rob Mazurek's Exploding Star Orchestra, the Nicole Mitchell Quartet, the Guillermo Gregorio Trio, and Ken Vandermark's Index Orkest. He was named among the "Rising Stars" of vibraphone by Down Beat magazine's 2007 Critics' Poll. JazzTimes called him "a welcome new voice" on vibraphone, and Cadence praised him as "a remarkably adroit colorist."
Cosponsor: Center for Contemporary Arab Studies
The Center for Contemporary Arab Studies (CCAS) at Georgetown University was the cosponsor of this concert. CCAS is the only academic center in the United States focusing essentially on the Arab world—the region from Morocco to the Gulf. Founded in 1975, CCAS was established as an integral part of Georgetown University's School of Foreign Service, the oldest school of international affairs in the United States. In the academic arena, it offers more courses on the contemporary Arab world than any other educational institution in the Western world. Its graduate and undergraduate programs offer more than seventy-five courses each year in history, international affairs, economics, development, business, culture, and society as well as the Arabic language and the study of Islam. Faculty members conduct research at the forefront of scholarship on the Arab world. Alumni, faculty, staff, and students play a vital role in educating the American public about the Arab world and Islam. Between 2001 and 2008, there was a doubling in attendance at CCAS's public events and a three-fold increase in applications to its master's degree program in Arab studies.
Credits
Podcast recording, notes, and photos compiled by Michael Wilpers, performing arts programmer, with photography by Neil Greentree and audio engineering by Andy Finch and SuMo Productions.
Explore this podcast
View Concert Photos
More concert series podcasts
---
Podcast Series
Concerts
Storytelling
Lectures
---
Subscribe to this Series

RSS

iTunes
---
About Podcasts
About podcasting and how to get started


Tell us what you think
---
Radio Asia
Explore music from all across Asia with Radio Asia, a stream of complete tracks from the collections of Smithsonian Global Sound
---
Most Recent Podcasts
Musicians from Marlboro I
Music of Toru Takemitsu and Tan Dun: Ralph Van Raat, piano
The Legacy of Yatsuhashi
The Traveler's Ear: Scenes from Music
Western Music in Meiji Japan: Gilles Vonsattel, piano
Western Music in Meiji Japan
The Art of Afghan Music
Painting with Music: Bell Yung, qin
Sounds from Arabia
Tarek Yamani Trio