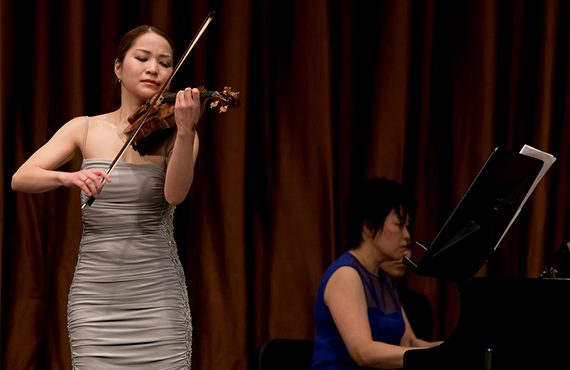 Western Music in Meiji Japan
Listen Now download Subscribe (itunes) Subscribe (rss) help


Program
The Legacy of Western Music in Meiji Japan

Mayuko Kamio, violin
Katherine Chi, piano
Title
Time

Johannes Brahms
Scherzo for Violin and Piano in C Minor from the F-A-E Sonata (1853)

0:00‒5:45

Toshio Hosokawa

Vertical Time Study III, for Violin and Piano (1994)

6:05‒16:39

Shinichiro Ikebe

Themes from Catharsis for Solo Violin (2003)

17:02‒24:53

Maurice Ravel

Tzigane, Rapsodie de Concert for Violin and Piano (1924)  

25:14‒34:42

Nikolai Rimsky-Korsakov

Flight of the Bumblebee (1899‒1900)           
35:02‒36:12
Listen Now download Subscribe (itunes) Subscribe (rss) help


Notes
Western Music in Meiji Japan
The history of Western classical music in Meiji Japan is a fascinating one. The first piano heard by the Japanese was probably one brought there by Philip Franz Balthasar von Siebold (1796−1866). As early as 1875, the Japanese were manufacturing their own pianos and other
Western instruments. In 1879, two years before the artist Kobayashi Kiyochika returned from self-imposed exile, the government created the Music Study Committee, which was devoted to Western music. The German model of music instruction was adopted when the government decided that the ability of Japanese students to read Western music notation was of paramount importance. This committee later led to the establishment of the Tokyo National University of Fine Arts and Music. Thirty-two catalogues of extant scores, mostly of German Romantic music and songs for mission schools, have survived from that era. The most popular composer in Japan then, as now, was Beethoven. Other favorites were Brahms, Schumann, Schubert, and Bach.
In Kiyochika's era, a music recital would have typically included short pieces by German composers as well as by Claude Debussy. By 1900 Japanese audiences in urban centers could easily hear (and even perform) works by Beethoven, Mozart, Grieg, Schubert, and other European composers. Some music teachers, such as the Austrian Rudolf Dittrich (1861−1919), were inspired by the woodblock prints of Hiroshige and created short musical pieces about famous landscapes. The illustrious German teacher Frantz Eckert (1852−1916) taught composition and harmony, wrote military marches, and composed Japan's national anthem as part of this effort to bring Western music to Japan. The first concert piano made in Japan (using parts from Germany) was manufactured in 1900 by Yamaha Torakusu (1851−1916), the founder of the Yamaha Corporation. Violins were first manufactured by Suzuki Masakichi that same year.
Japan's embrace of Frederic Chopin started with pianist Guillaume Sauvlet, who taught in Italy before he was recruited as an advisor to the Music Study Committee. One of his students was pianist Kōda Nobu (1870−1946), who played the entire Chopin Nocturnes in concert. (Her sister was a virtuoso violinist.) The first Chopin concert took place on July 20, 1885, and was performed by graduating students of the Music Study Committee. After the turn of the century, works by Chopin were played at home, at graduation concerts, and at professional recitals. His popularity was probably due to the appearance of a golden generation of Japanese pianists that included Sawada Ryūkichi (1886−1936), Kuno Hisa (1886−1925), and Ogura Sue (1891−1944). In the 129 printed concert programs that survive from the Meiji era, the single most popular piece was Chopin's Fantasie-Impromptu in C-sharp Major, with his Nocturnes and Preludes not far behind. Japanese scholars have also documented that Meiji Japan experienced a Wagner-boom. Many of the intellectuals who showed interest in Kiyochika's pictures considered themselves "Wagnerites," including Nagai Kafū (1879−1959), Ishikawa Takuboku, and Kitahara Hakushū. Kafū was an important admirer of Kiyochika and also a Debussy enthusiast.
A century after Kiyochika, the lasting extent of Japan's embrace of Western music is evident in the eight professional orchestras that perform regularly in Tokyo at the Bunkamura, the Tokyo Metropolitan Art Space, Cultural Hall, Suntory Hall, Orchard Hall, Sumida Hall, and NHK
Hall. In addition, nearly all high school students can read music today, thanks to requirements put in place by Meiji rulers.
—Adapted from notes by François LaChaud

Scherzo for Violin and Piano in C Minor from the F-A-E Sonata
Johannes Brahms (1833–1897)
In the summer of 1853, Johannes Brahms and the celebrated violinist Joseph Joachim spent eight weeks at Göttingen, discussing music, studying scores, playing chamber works together, and setting the foundation for a creative friendship that lasted for almost fifty years. Joachim gave Brahms several letters of introduction, including one to Robert and Clara Schumann in Düsseldorf. In late September, Brahms met the Schumanns for the first time. "Here is one of those who comes as if sent straight from God," Clara recorded in her diary. Brahms also befriended the young composer and conductor Albert Dietrich. Joachim was scheduled for an appearance in Düsseldorf at the end of October to give the premiere of Schumann's Fantasy for Violin and Orchestra (op. 131) as part of the Music Festival of the Lower Rhine, with the composer conducting. As a surprise, Schumann, Dietrich, and Brahms each agreed to contribute to a sonata for violin and piano, and then challenge Joachim to guess the respective authors. Dietrich was assigned the opening movement, Schumann volunteered an intermezzo and finale, and Brahms offered to supply the scherzo.
They dubbed the project the "F.A.E." Sonata, after the phrase that Joachim had taken as his motto: Frei aber einsam (Free but alone). The music was finished quickly and assembled into a performing edition with the dedication, "In Expectation of the Arrival of an honored and beloved Friend." Joachim was delighted with the gift, played the entire Sonata through immediately with Clara at the keyboard, and correctly announced each movement's composer. He kept the score for the rest of his life, and only in 1906, just a year before his death, did he finally allow Brahms' Scherzo to be published. The Scherzo is Brahms' earliest extant piece for violin and piano. It follows the traditional three-part scherzo form, with a rather stormy C-minor paragraph at the beginning and end surrounding a more lyrical central trio. Though written when Brahms was still very young, the music bears his characteristic qualities: rich harmonic vocabulary, insistent rhythmic vitality, a sure sense of motivic growth, and full textures.

Vertical Time Study III
Toshio Hosokawa (born 1955)
In his early twenties, Toshio Hosokawa studied in Berlin for several years with the exiled Korean composer Isang Yun. The postwar European style remains a major influence of his music, alongside intrinsic Eastern aesthetic principles. Yun and Japanese composer Toru Takemitsu encouraged Hosokawa to incorporate Japanese traditions into his work and challenged him to further develop this cultural balance in his compositions. The Vertical Time Study is a three-part series that challenges performers and listeners to focus not on the chronological sequence of sounds but on the tones and colors of each single note and the gaps between them.
Hosokawa describes this work in terms of calligraphy: the violin is the brush, while the piano is the canvas background upon which the ink is spread. A defining characteristic of Hosokawa's music is the interplay between sound and silence. As he observes, "Music is the place where notes and silence meet." To Hosokawa, silence represents the boundless, infinite possibilities of humanity and the natural world.
—Notes on Hosokawa by Midori, Office Goto, Ltd., provided by the artist

Themes from Catharsis for solo violin
Shinichiro Ikebe (born 1943)
Shinichiro Ikebe is one of Japan's busiest and most gifted musicians. Born in Mito, eighty miles north of Tokyo, Ikebe began studying piano and composition at age six, performed in brass bands, choirs, youth orchestras, and opera productions while at school, and entered the Tokyo
National University of Fine Arts and Music in 1963 to study composition. He earned his master's degree there in 1971. He was appointed to the faculty of the Tokyo College of Music in 1974 and named professor of composition at the school in 1987. Ikebe has composed operas, cantatas, ballets, and musicals for television, radio, and live performance, seven symphonies, a half-dozen concertos, many independent orchestral works, and chamber and vocal compositions, but he is most widely known for his film scores for Akira Kurosawa, Shohei Imamura, and other leading directors.
Ikebe wrote the score for the 2003 film Catharsis, directed by Sakaguchi Katsumi. The movie begins with Naoki, a fourteen-year-old boy, murdering a girl in a Tokyo suburb. His mother, Towaka, decides the family, including a daughter who has been struck speechless after witnessing the crime, should leave Tokyo and live separately where they are not known. When Naoki is released from the reformatory three years later, Towaka gathers her husband and children together on the remote island where her own aged mother is dying. Her hope is to reunite the family as they watch over the beloved matriarch in her final days.

Tzigane, Rapsodie de Concert for violin and piano
Maurice Ravel (1875–1937)
While in England in July 1922, Maurice Ravel was a guest at a soirée at which the Hungarian violinist Jelly d'Aranyi performed. Later in the evening Ravel asked Mlle. d'Aranyi to play Gypsy melodies from her native land, and she filled the night until dawn with music that enthralled the composer. While captivated by the passionate Hungarian music, Ravel had been mired in a fallow period since the end of World War I, and it was almost two years before he was able to compose Tzigane.
Following in the tradition of the Gypsy-inspired compositions of Liszt and Enesco, Tzigane comprises several structural sections played without pause following an extended introduction for unaccompanied violin. Each section is a virtual miniature dance movement that reaches its own climax before making way for the next dance section. The tempo of the last section goes from faster to fastest, and Tzigane ends in the dazzling whirl of the soloist's moto perpetuo pyrotechnics. The work is filled with more than enough virtuosity to gratify the violinist and to electrify any audience: harmonics, multiple stops, pizzicati, trills, and appoggiaturas abound. Ravel, with his perfect craftsmanship, set this dizzying display against a subtle orchestral background to produce a composition rich in atmosphere and filled with fiery, Gypsy enthusiasm.
—Notes by Richard Rodda, PhD
This performance was presented in conjunction with the exhibition Kiyochika: Master of the Night, on view at the Arthur M. Sackler Gallery from March 29 through July 27, 2014.

Kiyochika: Master of the Night
On September 3, 1868, the city of Edo ceased to exist. Renamed Tokyo (Eastern Capital) by Japan's new rulers, the city became the primary experiment in a national drive toward modernization. Kobayashi Kiyochika (1847–1915), a minor retainer of the recently deposed shogun, followed his master into exile. When he returned to his birthplace in 1874, Kiyochika found railroads, steamships, gaslights, telegraph lines, and large brick buildings ingrained in the cityscape. Self-trained as an artist, Kiyochika recorded his views of Tokyo in a series of color woodblock prints. Dawn, dusk, and night were his primary moments of observation, with subjects veiled in sharply angled light, shadows, and darkness.
For the exhibition Kyochika: Master of the Night, more than forty of Kiyochika's prints were displayed in thematic groupings that represent the juxtapositions of tradition and modernity he witnessed in a rapidly changing world. The exhibition was organized by the Arthur M. Sackler Gallery with support from the Anne van Biema Endowment.
Listen Now download Subscribe (itunes) Subscribe (rss) help


Performers
Mayuko Kamio
Mayuko Kamio, violin, was the gold medalist of the 2007 International Tchaikovsky Competition. She made her concerto debut in Tokyo at the age of ten. Since then, she has appeared as soloist with the Boston Pops conducted by Keith Lockhart, the Tonhalle Orchestra in Zurich with Mstislav Rostropovich, and the Israel Philharmonic under Zubin Mehta. She has toured with the National Philharmonic of Russia, the Budapest Festival Orchestra, the Munich, Prague, BBC, and Israel philharmonics, and the Oviedo Symphony Orchestra of Spain. In addition, she has appeared in Japan as soloist with the Tokyo, Hiroshima, Kyoto, NHK, Osaka, Sapporo, and Yomiuri Nippon symphony orchestras and the Japan, Tokyo, and Tokyo City philharmonics. As a recitalist she has performed in such major cities as New York, St. Petersburg, Moscow, Frankfurt, Warsaw, and Tokyo.
As a winner of the 1998 Menuhin International Violin Competition, the youngest artist ever to win the award, Kamio performed with the Orchestra National de Lille. In 2000 she took first prize in the Young Concert Artists International Auditions, and in 2004 she won the first Monte Carlo Violin Masters Competition. That same year she was awarded the gold medal at the first International David Oistrakh Violin Competition in Ukraine. She has released four recordings on the SONY and BMG labels, a sonata recording of Franck, Brahms, and Strauss, a concerto recording of Tchaikovsky and Prokofiev Concerti, a collection of violin solo works with piano of Chausson, Stravinsky, Szymanowski, Waxman, and Paganini's 24 Caprices for Solo Violin. Kamio plays on the 1735 "Sennhauser" made by Joseph Guarneri del Gesu, kindly offered by the Strad Society in Chicago.
Katherine Chi
Katherine Chi, piano, is firmly established as one of Canada's fastest rising stars, and she has performed throughout Europe and North America to great acclaim. Just a year after her debut recital at the age of nine, Chi was accepted to the Curtis Institute of Music. She continued studies at the New England Conservatory in Boston, where she received her master's and doctorate degrees and an Artist Diploma. She later studied for two years at the International Piano Foundation in Como, Italy, and at the Hochschule für Musik in Cologne. In 2000 Chi was named Prize Laureate of the Honens International Piano Competition, becoming the first Canadian, and the first woman, to win this award. She was also a prize winner at the 1998
Busoni International Piano Competition. Her debut recording, on the Honens label, features works by Beethoven and Rachmaninoff.
Listen Now download Subscribe (itunes) Subscribe (rss) help


Related Images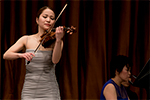 Violinist Mayuko Kamio performs at the Meyer Auditorium of the Freer Gallery in 2014. She made her concerto debut in Tokyo at the age of ten. In 1998, she won the Menuhin International Violin Competition and two years later took first prize in the Young Concert Artists International Audition. She was awarded the gold medal at the 2007 International Tchaikovsky Competition.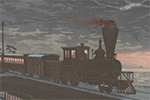 Mayuko Kamio's recital focused on the legacy of European composers who became popular in Japan soon after the nation opened to the West in 1858. Romantic music grew quickly in popularity after German music teachers arrived and virtuosos toured the country.  Soon, Japanese composers began training in a conservatory system modeled on Western institutions. Kyochika's woodblock prints show similarly dramatic changes in Japanese society in the late nineteenth century. This print from 1879 was created seven years after a rail line opened between central Tokyo and Takanawa, about four miles away.
View of Takanawa Ushimachi, under a Shrouded Moon, by Kobayashi Kiyochika (1847–1915); Japan, 1879; woodblock print; Robert O. Muller Collection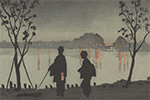 In one of Kiyochika's iconic works, the two figures silhouetted against the night sky are a geisha, with a traditional hairstyle, and her patron, wearing a Western-style hat. The couple stands on the eastern bank of the Sumida River at Mukōjima. The humpbacked bridge in the distance and the reflection of far-off lights in the river contrast with the nocturnal sky and its subtle shades of gray and black.
Sumida River by Night, by Kobayashi Kiyochika (1847–1915); Japan, Meiji era, 1881; woodblock print, ink and color on paper; Robert O. Muller Collection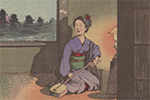 A geisha tunes her shamisen as she prepares for an evening of work. The modern light of a kerosene lamp compromises the desired erotic mood, once achieved by moonlight and flickering candles. Her face and figure, which should be veiled in mystery, cast their own shadows beneath the unforgiving glare. The coloring in this print is reminiscent of the then-new hand-tinted photographs popular in the period.
Summer Moon at Imado, by Kobayashi Kiyochika (1847–1915); Japan, 1881; woodblock print, ink and color on paper; Robert O. Muller Collection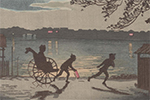 When accommodating early Western diplomatic and commercial missions, the Japanese strove for a polite isolation of these still unknown and thoroughly exotic visitors. On outings and excursions to the foreign concessions, the Japanese could gawk at the novelty of transplanted Western customs, all the while unwittingly becoming modern. Kiyochika combines some of his favorite themes in this print: a nocturnal landscape, various sources of light, and silhouettes of characters and buildings. In this nightscape, he subtly associates the pleasures of the old Edo (the geisha) and modern innovations (the rickshaw).
Distant View of Ichinohashi Bridge from Sumida River's Embankment, by Kobayashi Kiyochika (1847–1915); Japan, 1880; woodblock print, ink and color on paper; Robert O. Muller Collection
Listen Now download Subscribe (itunes) Subscribe (rss) help


The Credits
This concert was presented as part of the Bill and Mary Meyer Concert Series and in conjunction with the exhibition Kiyochika: Master of the Night, made possible by the Anne van Biema Endowment.
Podcast coordination by Michael Wilpers, F|S manager of performing arts. Thanks to Andy Finch and SuMo Productions for audio recording and editing, Nancy Eickel for text editing, Torie Castiello Ketcham for web design, Neil Greentree for photography, and especially the artists for granting permission to share their performance at the Freer Gallery.
The Bill and Mary Meyer Concert Series was established in memory of Dr. Eugene Meyer III and Mary Adelaide Bradley Meyer. It is generously supported by Elizabeth E. Meyer, Melissa and E. Bradley Meyer, the New York Community Trust—The Island Fund, the Bill and Mary Meyer Concert Series Endowment, and numerous private donors.
Podcast Series
Concerts
Storytelling
Lectures
---
Subscribe to this Series

RSS

iTunes
---
About Podcasts
About podcasting and how to get started


Tell us what you think
---
Radio Asia
Explore music from all across Asia with Radio Asia, a stream of complete tracks from the collections of Smithsonian Global Sound
---
Most Recent Podcasts
Musicians from Marlboro I
Music of Toru Takemitsu and Tan Dun: Ralph Van Raat, piano
The Legacy of Yatsuhashi
The Traveler's Ear: Scenes from Music
Western Music in Meiji Japan: Gilles Vonsattel, piano
Western Music in Meiji Japan
The Art of Afghan Music
Painting with Music: Bell Yung, qin
Sounds from Arabia
Tarek Yamani Trio