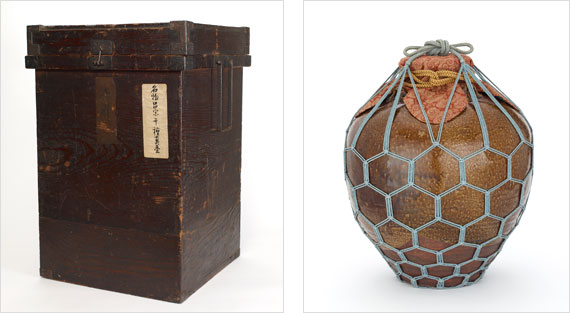 Chigusa and the Art of Tea
In 2009 the Freer Gallery purchased a Chinese jar widely revered as an icon of Japanese tea culture. The jar, made in the thirteenth or fourteenth century, was one of hundreds, possibly thousands, of similar objects shipped to Japan. Once there, however, its fate took a turn when it was selected for use in storing dried tea leaves. The drinking of powdered green tea was a social activity enjoyed in the highest echelons of Japanese society, and the imported Chinese tea bowls and other utensils were a focus of intense examination and detailed appraisals captured in sixteenth-century tea diaries. Rising to prominence in these circles, the Freer's tea-leaf storage jar received a name, "Chigusa" (Thousand Grasses), derived from classical court poetry.
Chigusa and its related objects and documents are the focus of an ongoing international research collaboration that will eventually result in a webinar, exhibitions at the Sackler and at Princeton's University Art Museum, symposia and workshops, and finally a major publication presenting everything that has been learned about this remarkable vessel.
The research collaboration began with a workshop in January 2011, held at the Freer and supported by the Toshiba International Foundation. It convened Japanese specialists Takeuchi Jun'ichi and Oka Yoshiko, American scholar Andrew Watsky (Princeton University), and Freer|Sackler curators Louise Cort and James Ulak to emulate the sixteenth-century diarists in scrutinizing Chigusa and its components. A webinar held later in 2011 brought together scholars and Japanese ceramic enthusiasts from all over the world to examine aspects of the jar and its historic and artistic context.
In April 2012, Cort and Watsky held a workshop on Chigusa for a group of about 45 scholars of Japanese art, cosponsored by the Freer|Sackler and the Center for the Advanced Study of the Visual Arts (CASVA) at the National Gallery of Art. The scholars were fascinated by the jar and its corresponding research, a testimony to the value of the collaborative research project designed around this important object.
The exhibition Chigusa and the Art of Tea is on view through July 27, 2014