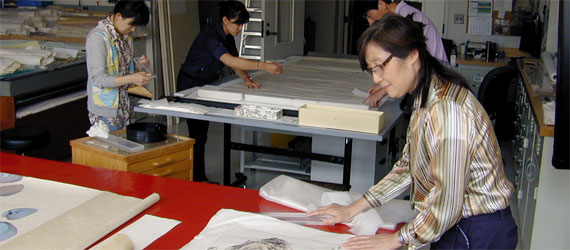 Chinese Painting Conservation Program
The Chinese Painting Conservation Program was initiated in 2000 with funding from the Henry Luce Foundation. Subsequent grants from the Christensen Fund and the E. Rhodes and Leona B. Carpenter Foundation supported the continuation of the program until 2009. At present, the program is funded by grants from the Stockman Family Foundation, the Robert H. N. Ho Family Foundation, and the Andrew W. Mellon Foundation. The generous support from these foundations has enabled the East Asian Painting Conservation Studio (EAPCS) to increase its care of the Chinese paintings collections held by the Freer and Sackler Galleries, offer a fellowship in Chinese painting conservation, and develop other international educational and cooperative initiatives.
Program Activities
Assistant Chinese Painting Conservator
Funding for the Chinese Painting Conservation Program supports a position for an assistant Chinese painting conservator. In addition to assisting with conserving and remounting Chinese paintings and calligraphy from the Freer and Sackler collections, the assistant conservator helps with projects including internships, cooperative exchanges with conservators from China and Taiwan, and the reproduction of Chinese mounting fabrics and materials.
This position is currently held by Grace Jan. A graduate of the New York University Institute of Fine Arts program in conservation, Jan has also studied traditional mounting in China. She continues to work and train with Xiang-mei Gu, the lead Chinese painting conservator in the EAPCS.
Andrew W. Mellon Fellowship in Chinese Painting Conservation
The Chinese Painting Conservation Program is now accepting applications for the Andrew W. Mellon Fellowship in Chinese Painting Conservation.  The fellow must have a high level of technical skill, experience, and knowledge of the ethical and professional principles that apply to the conservation of works of art. The fellow will receive training under the guidance of specialists in the Department of Conservation and Scientific Research. Practical instruction will focus on traditional materials and methods for restoring and remounting Chinese paintings in combination with modern conservation principles and practices.  Training may include various techniques including dyeing and preparing mounting papers and silks, applying lining papers, compensating for losses, repairing creases, inpainting, and studying mounting styles. The fellow will also gain practical experience in museum operations and be expected to participate in departmental activities including object examination and documentation, exhibition rotations, and storage housing.
The fellowship is a one-year full-time position, beginning in spring 2014, with the possibility of renewal for an additional year.  The stipend will be $45, 000 with up $5,000 of additional funding for travel, research and related expenses. 
Application deadline: January 24, 2014.  Applications should include a letter of interest, curriculum vitae and the names and contact information of three references.  Please email applications to dcsr@si.edu. 
For further information about the Chinese Painting Conservation Program, please e-mail dcsr@si.edu or call +1 202.633.0385.
For educational materials related to the materials, methods, and care of East Asian painting collections, please see our online resources.