Yoga and Visual Culture: An Interdisciplinary Symposium

Keynote Lecture
Inward Journeys: Yoga and Pilgrimage
B.N. Goswamy, introduced by Vidya Dehejia
November 21, 2013 at 6.30 pm
Freer, Meyer Auditorium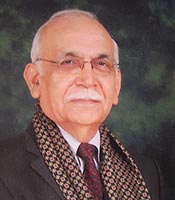 B.N.Goswamy, distinguished art historian, is Professor Emeritus of Art History at the Panjab University, Chandigarh. His work covers a wide range and is regarded, especially in the area of Indian painting, as having influenced much thinking. He has been the recipient of many honours, including the Jawaharlal Nehru Fellowship, the Rietberg Award for Outstanding Research in Art History, the Padma Shri (1998) and the Padma Bhushan (2008) from the President of India. Currently, he holds a Tagore National Fellowship for Cultural Research.
Professor Goswamy has taught, as Visiting Professor, at several universities across the world, among them the Universities of Kiel, Pennsylvania, Heidelberg, California (at Berkeley and Los Angeles), Texas (at Austin), Zurich, and the ETH (Federal University) at Zurich. He has also been responsible for major exhibitions of Indian art at Paris, San Francisco, Zurich, San Diego, New York, Frankfurt, and New Delhi. Most recently, he co-edited the two volume study, Masters of Indian Painting: 1100-1900, which accompanied major exhibitions at the Museum Rietberg, Zurich and the Metropolitan Museum of Art, New York.
Among his many publications are: Pahari Painting: The Family as the Basis of Style (Marg, Bombay,1968); Painters at the Sikh Court (Wiesbaden, 1975), Essence of Indian Art (San Francisco, 1986); Wonders of a Golden Age: Painting at the Court of the Great Mughals (with E. Fischer, Zurich, 1987); Pahari Masters: Court Painters of Northern India (with E. Fischer; Zurich, 1992); Indian Costumes in the Collection of the Calico Museum of Textiles (Ahmedabad, 1993);  Nainsukh of Guler: A great Indian painter from a small hill state (Zurich, 1997); Painted Visions: The Goenka Collection of Indian Paintings (New Delhi, 1999); Piety and Splendour: Sikh Heritage in Art (New Delhi, 2000); Domains of Wonder: Selected Masterworks of Indian Painting from the Edwin Binney Collection (with Caron Smith; San Diego, 2005); I See No Stranger: Early Sikh Art and Devotion (with Caron Smith; New York, 2006); The Word is Sacred; Sacred is The Word: The Indian Manuscript Tradition (New Delhi, 2006), Indian Paintings in the Sarabhai Foundation (Ahmedabad, 2010), and Masters of Indian Painting, 1100-1900 (ed. with Milo Beach and Eberhard Fischer; Zurich 2011).
---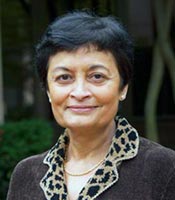 In the course of her career, Vidya Dehejia has combined research with teaching and exhibition-related activities around the world. Extensive field travel in South Asia, with visits to sites of importance in Southeast Asia, has given her first-hand familiarity with the art of the region. Her background in classical Sanskrit and Tamil and knowledge of a range of modern Indian languages has proved invaluable. Her writings have incorporated translations of ancient poetry and material from unpublished manuscripts in order to illuminate an artistic milieu. She has explored at length the theoretical basis for the portrayal of visual narratives in the context of India's sculpture and painting and has examined issues of gender and colonialism. Over time, her work has ranged from Buddhist art of the centuries BCE to the esoteric temples of North India, and from the sacred bronzes of South India to the art of British India.