The Freer Medal: Past Recipients

James Cahill (2010)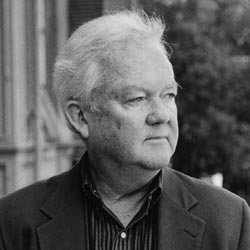 James Cahill, former curator of Chinese art at the Freer Gallery of Art and eminent scholar in many topics of Chinese art history, was awarded the Charles Lang Freer Medal in recognition of a lifetime of seminal contributions to his field. Cahill is the 12th recipient of the Freer Medal, which he received on Thursday, Nov. 18 at 11:00 a.m. in a public ceremony in the Freer's Meyer Auditorium.
Over the years, Cahill's scholarly writings and collaborative projects with other prominent Chinese art specialists have played an important role in the development of Chinese art history studies internationally. A specialist in Chinese painting, he has worked on major artists and their masterworks as well as lesser known painters, thereby broadly expanding subjects of study.
Born in 1926 at Fort Bragg, California, Cahill received his B.A. in Oriental Languages from University of California Berkeley (1950), followed by his M.A. (1952) and PhD (1958) in art history from the University of Michigan. In 1956 he traveled to Stockholm to work with Osvald Siren, a renowned Swedish scholar (and first recipient of the Freer Medal) on his monumental seven–volume Chinese Painting: Leading Masters and Principles.
Later that year (1956) Cahill joined the Freer as curator of Chinese art. Destined for a leading role in the research and interpretation of Chinese painting, Cahill painstakingly surveyed the Freer's extensive collection, leaving detailed observations that are still regularly quoted today. Working with colleagues John A. Pope, Rutherford J. Gettens, and Noel Barnard, he also produced the landmark publication, The Freer Chinese Bronzes (Smithsonian Institution, 1967), a work centered on the museum's important collection of archaic Chinese ritual vessels.
In 1965 Cahill returned to California to join the History of Art Department at UC Berkeley, where he taught until his retirement in 1994. In 1973 he was a member of the esteemed "Chinese Archaeology Delegation," the first group of art historians to visit China from the U.S., and in 1977 he returned to China as chairman of the "Chinese Old Painting Delegation," which was given unprecedented access to painting collections there. He has received two Distinguished Lifetime achievement awards from the College Art Association and is currently professor emeritus in the History of Art department at UC Berkeley.
Oleg Grabar (2001)
Sherman E. Lee (1998)
Alexander Soper (1990)
Stella Kramrisch (1985)
Max Loehr (1983)
Roman Ghirshman (1974)
Laurence Sickman (1973)
Tanaka Ichimatsu (1973)
Yukio Yashiro (1965)
Ernst Kühnel (1960)
Osvald Sirén (1956)