Charles Lang Freer
Charles Lang Freer made his fortune in the railroad car manufacturing industry in the mid to late nineteenth century. His interest in the Aesthetic Movement helped to shape his tastes in art, and in the late 1880s, Freer began to actively collect paintings and works on paper by James McNeill Whistler. Freer would collect more than one thousand works by Whistler, who, through his own interest in the arts and cultures of Asia, turned Freer's attention East. Whistler introduced Freer to the arts of Asia, and by 1906, Freer had amassed a considerable amount of paintings and ceramics from Japan and China, and artifacts from the ancient Near East.
Charles Lang Freer spent several years researching museums to determine the best design for his art gallery. He eventually decided on a modified version of an Italian renaissance palazzo. In fact, in a meeting with architect Charles Platt at the Plaza Hotel in New York City, Freer jotted down his ideas for a classical, well-proportioned building on a piece of hotel stationery. An Italianate structure with a porticoed courtyard would reflect his ideas about art and aesthetics, including scale, proportion, harmony and repose. When the building opened to the public and until the 1970s, live peacocks roamed the courtyard, creating, in effect, a living peacock room to rival the painted masterpiece by James McNeill Whistler.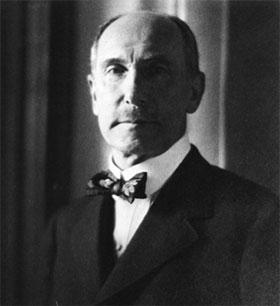 Freer Gallery of Art
History and building
Charles Lang Freer
Arthur M. Sackler Gallery
History and building
Arthur M. Sackler, Collector
---
Freer Gallery Closure
Please note: The collections storage areas of the Freer Gallery of Art will be closed in 2015 and 2016. The museum itself will be closed to the public in 2016.
Learn more.