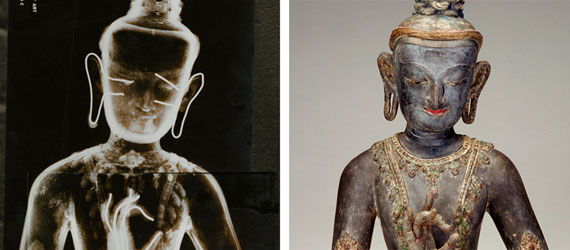 Symposium
Forbes Symposia on Scientific Research in the Field of Asian Art
Topics in Ancient Metallurgy
To celebrate the fortieth anniversary of The Freer Chinese Bronzes Technical Studies, by Rutherford J. Gettens, the fifth Forbes Symposium was dedicated to the discussion of topics in Asian metallurgy. The symposium, organized by the Department of Conservation and Scientific Research, was held in the Meyer Auditorium on October 28 and 29, 2010. Topics included Southeast Asian, Chinese, and West Asian copper alloys.
The proceedings of the fifth Forbes Symposium were published June 2012.
Symposia Series
Scientific Research in the Field of Asian Art is a series of biannual symposia to highlight recent scientific and technical studies of the arts of Asia. In addition to serving as a means for disseminating research results, the symposia provide a forum for discussion and interaction among an international group of researchers.
The first Forbes Symposium was held in 2001, on the fiftieth anniversary of the Freer Gallery's initial pursuit of scientific endeavors, to survey the state of scientific research in Asian art. Subsequent symposia have focused on such topics as the pictorial and sculptural arts of Asia and historic Asian ceramics. Links to proceedings that are available for purchase are listed below.
The series is supported by the Edward W. Forbes Fund. This bequest to the Freer Gallery was made by John Thacher in honor of his former colleague, Edward Waldo Forbes, a past director of the Fogg Art Museum at Harvard University and an early proponent of applying technical examination to the study of art.
Previous Symposia
Papers presented at the symposia are available as a series of volumes. The below list includes links to details about proceedings that are currently available. For questions or to order a copy, please call 202.633.0385.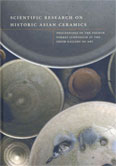 Scientific Research on Historic Asian Ceramics (2009)
Details

Scientific Research on the Sculptural Arts of Asia (2007)
Details

Scientific Research on the Pictorial Arts of Asia (2005)
Details
Scientific Research in the Field of Asian Art (2003)
Details
For More Information:
Forbes Symposium 2010/DCSR
Freer Gallery of Art/Arthur M. Sackler Gallery
Smithsonian Institution, MRC 707
P.O. Box 37012
Washington D.C. 20013-7012
U.S.A.
Email: dcsr@si.edu
Fax: 202.633.9474

Scientific Research
Overview
Tech Lab
Resources for scientific studies
Research
Forbes program
Forbes Symposium
Forbes Symposium Proceedings
---
More about the Department
Conservation
The conservation staff at the Freer and Sackler Galleries is responsible for the preservation and treatment of artworks in the collection, as well as preparing these objects for exhibition. The Department of Conservation and Scientific Research includes sections devoted to East Asian Paintings, Objects, Paper, and Exhibitions. More info »
---
Staff Publications
Publication is an integral part of our research program. Click below to view lists of published works by past and present members of the department:
---
Staff