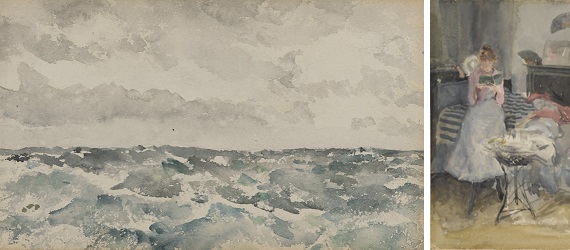 Paper Conservation: Current Projects
Whistler and watercolor project
Combining the methods of art history and conservation science, this study focuses on the more than 50 watercolors by James McNeill Whistler (1834–1903) in the Freer Gallery of Art. These works—the world's largest collection of Whistler watercolors—are part of the Freer's larger collection of Whistler's art, including oils, prints, drawings, and copper etching plates. Technical studies have analyzed Whistler's oil paintings, prints, and pastels, but no such studies exist on his watercolor practice.
Collaboration with Lee Glazer, associate curator of American art, and Blythe McCarthy, senior scientist in the Department of Conservation and Scientific Research, will allow us to synthesize a technical examination and analysis of Whistler's paper, pigments, and techniques with a comprehensive survey of the watercolors' exhibition and reception in Britain and the United States. It will illuminate how Whistler worked with the medium and establish a baseline of information to which other collections of his watercolors can be compared.
Approximately half of the Whistler watercolors already have been examined visually and microscopically; the remainder will be similarly examined during this project. This investigation will determine the types of paper used, identify paper composition and color, locate watermarks, and note inscriptions and notations. We will add information to an existing database on papers used by Whistler in his etchings, lithographs, and drawings, compiled by Martha Smith, former Freer paper conservator (see Paper Conservation: Past projects).
Visible working practices such as sanding, blotting, or scraping the paper and paint to achieve a desired appearance will be photographed and described to help scholars, curators, and conservators recognize them in related works. A methodology using recently acquired computed radiography will be developed to reveal watermarks that cannot otherwise be seen. The watercolors also will be photographed using ultraviolet and infrared reflectography, which can be used to refine pigment identification and reveal working drawings beneath layers of paint.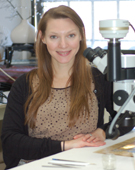 Hagop Kevorkian fellow Amanda Malkin
Hagop Kevorkian Fellowship
In early September 2013, the Freer|Sackler welcomed Hagop Kevorkian fellow Amanda Malkin to the paper conservation lab. The two-year Kevorkian fellowship will support conservation treatment of at least 100 Islamic manuscript folios, with the goal of preserving and stabilizing the many treasures within the manuscript collections. Islamic manuscript paintings are inherently unstable due to the way they were created. The application of numerous layers of paint, burnishing of each layer between subsequent applications, and painting on top of layers of gold paint or leaf all contribute to insecurity and a lack of adhesion of the pigment to the paper support. This leads to the cracking, lifting, and flaking of the media, which can eventually fall off the support if it is not treated. Additional condition issues observed in Islamic manuscripts include the presence of accretions, or foreign material, such as adhesives, wax, or fly droppings that have become stuck to the surface of the paint or the paper. These can obscure the minute details that distinguish these miniature paintings, as well as cause deterioration or discoloration of the paint or paper.
During her fellowship, Malkin will work under the stereomicroscope to document the condition of the manuscripts' pages, illuminations, and illustrations; consolidate unstable media; and mechanically reduce surface accretions. In addition to conservation treatment, Amanda will work with Paper Conservator Emily Jacobson and Chief Curator and Curator of Islamic Art Massumeh Farhad on a research project to provide further insight into these beautiful yet not well-studied miniature paintings.
Amanda Malkin graduated from Northumbria University in 2012 with an MA in the conservation of fine art, specializing in works of art on paper. She was a recent Kress fellow at the Northeast Document Conservation Center in Andover, Massachusetts. She has interned at the National Galleries of Scotland, with a private paper conservator in the United Kingdom, and at the Williamstown Conservation Center in Williamstown, Massachusetts. Her current fellowship at the Freer|Sackler enhances and encourages her appreciation of miniature paintings, while preparing and training her to assist other museums with their Islamic collections in the future.

Islamic collection survey
Paper Conservation is undertaking a survey of the Islamic art-on-paper collections to assess their condition and identify potential treatment and housing issues. Such surveys help define discrete conservation projects that can be undertaken by staff, interns, volunteers, or contractors. Additionally, the project is focusing on the Islamic papers themselves, looking at such factors as thickness and pulp quality to gain insights on regional or stylistic differences.