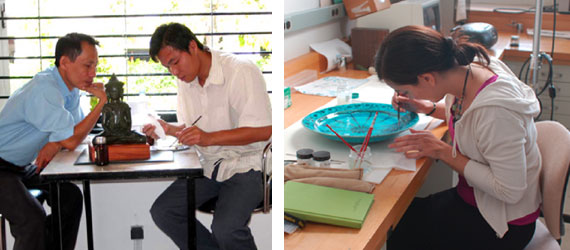 Objects Conservation: Past Projects
Korean collection survey
A condition survey of the three-dimensional Korean objects in the collections is being conducted to improve the overall physical state of the collection, and in preparation for an upcoming reinstallation of the Freer's Korean gallery. Materials included in the survey are mainly ceramic and metal, as well as glass, stone, and lacquer. Objects range from beads to weapons.
Islamic Ceramic Survey and Treatment
A survey of the Islamic ceramics in the Freer and Sackler collections was conducted during 2007–2008 to determine the condition of these objects, as well as related research possibilities. The survey uncovered a variety of treatment needs, ranging from basic cleaning to extensive stabilization and restoration, which are now being carried out.
Conservation laboratories at the National Museum of Cambodia
The Freer and Sackler Galleries are honored to have played a role in establishing the Metal Conservation Laboratory at the National Museum of Cambodia as part of the longstanding ties between the museums. The Department of Conservation and Scientific Research led the project, which involved designing and equipping the facility and identifying a conservator, Sean Charette, who spent nineteen months training five National Museum staff members. Subsequently, one staff member, Samnang Huot, came to Washington for six months of further training; additional training will take place in the future. The Getty Foundation provided major support for this project, and additional funding came from the Global Heritage Fund, the Asian Cultural Council, the Friends of Khmer Culture (FOKCI), and the Fulbright Senior Specialists Program.
Building on the success in setting up the Metal Conservation Laboratory, further funding was secured to create a counterpart focused on ceramics. The Ceramics Conservation Laboratory opened at the National Museum in January 2009 and is staffed by Cambodian conservators trained by American conservator Bonnie Baskin. The metal and ceramics laboratories complement a stone conservation lab set up by EFEO (École française d'Extrême Orient) more than a dozen years ago. Together, the conservation facilities of the National Museum are among the most advanced in Southeast Asia.