BENEFIT GALA
A New Life For Ancient Chinese Jades And Bronzes At The Freer
Wednesday, November 17, 2010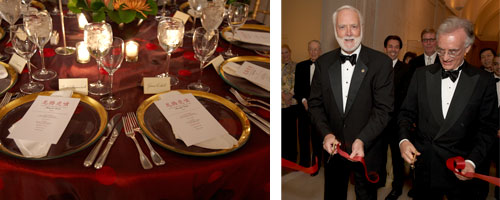 Thank you to all our sponsors and committee members for making the Dancing Dragon Roaring Tiger Gala a successful and memorable evening.
On the evening of November 17, nearly 200 guests filled the Freer Gallery of Art's marble corridors to celebrate the reopening of the ancient Chinese jade and bronze galleries . During the reception, guests enjoyed a private preview of the reinstalled galleries and a chance to marvel at the stunning jade and bronze works within. Many of the works, among the greatest treasures of Chinese art outside China, returned to public view after more than a decade in storage.
Guests were welcomed by G. Wayne Clough, secretary of the Smithsonian, and Julian Raby, director of the Freer Gallery of Art before processing to the Meyer Auditorium for a live auction of contemporary Chinese artworks donated by world-renowned artists including Cai Guo-Qiang and Hai Bo.
Following the auction guests were ushered upstairs to tables dressed in China red, for an Asian inspired dinner. The celebration ended with dessert and dancing in the Freer 's beautiful corridors.
Attendees of this unforgettable evening included Justice Bader Ginsburg, Supreme Court of the United States; The Honorable Paul Hodes, Representative from New Hampshire and Mr. Li Dongwen, Minister-Counselor for Cultural Affairs at the Embassy of the Peoples Republic of China.
We would like to thank the following sponsors for their generous support:
YELLOW DRAGON SPONSOR
Dame Jillian T. Sackler
WHITE TIGER SPONSOR
Mr. and Mrs. Hart Fessenden
Mr. James W. Lintott and Ms. May Liang
Dr. and Mrs. Michael Pillsbury
Diane H. Schafer and Dr. Jeffrey A. Stein
Jim and Masako Shinn
CRIMSON PHOENIX SPONSOR
Ms. Merit E. Janow and Mr. Peter Young
Mr. and Mrs. Walter Moore
Patricia and Henry Tang
SPONSOR
Mr. and Mrs. Michael R. Sonnenreich
Jane and Leopold Swergold
INDIVIDUAL SPONSOR
Carolyn Brehm
Mr. and Mrs. Vinton G. Cerf
Mr. Jeffrey P. Cunard
John and Julia Curtis
Mrs. Cynthia Helms
Shirley Z. Johnson and Charles Rumph
Dr. and Mrs. Ashok Kaveeshwar
Lt. Col. and Mrs. William K. Konze
Ruth Ann Kurzbauer - Jacobson
Mr. Herbert Levin
Nancy and John Mannes
Mr. James O. Mathews
Mr. Dickinson Miller
Rebecca Miller and Christopher Vizas
Mr. and Mrs. William A. Nitze
Mr. Robert Rea
Dorothy Robins-Mowry
Mr. and Mrs. Jack M. Seymour, Jr.
Mr. and Mrs. K. Paul Singh
Mr. and Mrs. Carl R. Varblow
Penny and David Yao
AUCTION SPONSOR
Hai Bo
Mei-ling Hom
Cai Guo-Qiang
Sun Xun
MEDIA SPONSOR