During the two weeks the mandala was being created, we took hourly images to create a time-lapse animation. Please use the scroll bar at the right to view the animation.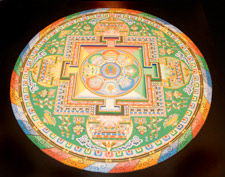 If you are unable to see a picture,
click here to get quicktime
.
Please be patient. This 632kb file will take about a 2 minutes to load on a 56k modem.