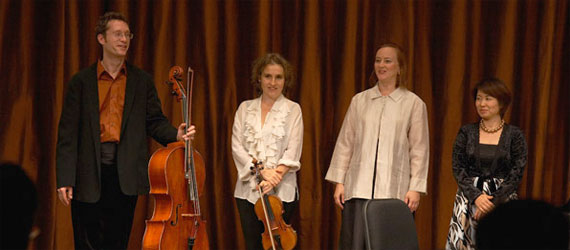 Between Tides: Chamber Music from Japan
Listen Now download Subscribe (itunes) Subscribe (rss) help


Masayo Ishigure, koto
Theresa Salomon, violin
James Wilson, cello
Kathryn Woodard, piano
This concert was presented on October 2, 2008, as part of the Bill and Mary Meyer Concert Series, supported by the New York Community Trust—The Island Fund and numerous additional donors.
Program
Michio Miyagi
Haru no umi (The Sea in Spring, 1929)
koto and violin
Somei Satoh
Birds in Warped Time II (1980)
violin and piano
Toshiro Mayuzumi
Bunraku (1983)
solo cello
Kosaku Yamada
Seven Poems: For Him and Her (1914)
solo piano
Tadao Sawai
Kaze no uta (Song of the Wind, 1970)
koto and cello
Maki Ishii
Zansho no toki (A Time of Afterglow, 1983)
koto and violin
Toru Takemitsu
Between Tides (1993)
violin, cello, and piano
Notes on the Program
by Kathryn Woodard
Borrowed from the title of Toru Takemitsu's piano trio, Between Tides aptly expresses the idea of opposing forces and directions that shaped music from Japan in the twentieth century. Opportunities increased for contact and exchange between European and Japanese musicians following the introduction of Western music to Japan in the mid-nineteenth century. The embrace of Western music challenged traditional frameworks for composing and performing Japanese music, such as the guild system, and inspired artists to explore new ways of bridging musical traditions.
The composers on tonight's program represent remarkably diverse approaches to creating music in Japan throughout the twentieth century, from Yamada's set of character pieces from 1914 to one of Takemitsu's last works from 1993. While the pieces that combine Japanese koto with Western violin and cello heighten the listener's awareness that these composers worked across traditions, those written solely for Western instruments are heavily influenced by Japanese musical traditions and aesthetics. Understanding the concept of ma (the pause or space following a sound) is central to appreciating many of the works on the program. As composer Maki Ishii stated, "Ma is a special way of acknowledging time in Japan." Ma surfaces in several ways throughout these compositions, for example, by emphasizing silence as a sonic element or by creating stillness in the midst of much activity.
Haru no umi (The Sea in Spring)
Composed in 1929, Haru no umi (The Sea in Spring) is considered one of the most representative works of Michio Miyagi (1894–1956). Since the beginning of the twentieth century, many pieces of koto music had been composed in connection with the New Year's Imperial Poetry Competition, which each year was devoted to a different subject. The announced subject for the competition of 1930 was "Seaside Rock," and Miyagi composed Haru no umi in December 1929 originally as a duet for koto and shakuhachi, a Japanese flute. The violin's lyrical qualities allow it to substitute easily for the shakuhachi, and Miyagi wrote this transcription for koto and violin just a year later. Miyagi said that he attempted to express in music the impressions of a boat trip he made several years earlier through the Inland Sea in springtime. Part I begins with the impression of gentle waves, followed by ripples against the side of the boat and the calls of seagulls overhead. Part II has a faster tempo to suggest the coming and going of fishing boats being vigorously rowed. Part III returns to the opening with variations on its soft mood of spring.
Birds in Warped Time
Somei Satoh (born 1947) originally composed Birds in Warped Time for shakuhachi and koto. The composer made his own transcription of the piece for violin and piano, which is being performed this evening. The long, undulating tones of the violin clearly mimic the pitch variations characteristic of the shakuhachi. The rhythmic patterning in the piano creates a simultaneous feeling of movement and stillness.
Bunraku
Performances of bunraku, a traditional form of puppet theater in Japan, are accompanied primarily by the shamisen, a plucked string instrument. In this solo piece for cello, Toshiro Mayuzumi (1929–1997) transfers characteristics of the shamisen to the cello, with the effect of broadening the shamisen's playing techniques and timbral possibilities.
Seven Poems: For Him and Her
In Seven Poems: For Him and Her, Kosaku Yamada (1886–1965) creates a unique set of character pieces reminiscent of the early cycles by nineteenth-century German composer Robert Schumann. Yamada draws on scales and sonorities typical of Japanese music, as well as the dissonances and dance tunes he must have heard during his studies in Berlin from 1910 to 1913. The contrasting characters of the pieces could refer to "him" and "her" from the title, hinting at the historically Western usage of "masculine" and "feminine" to characterize themes. Yamada, however, does not specify which pieces fit each designation, leaving it to the listener to imagine a dialogue between protagonists or cultures.
Kaze no uta (Song of the Wind)
Tadao Sawai (1937–1997) was himself a renowned performer on the koto and is responsible for greatly broadening the instrument's repertoire through his compositions. In Kaze no uta (Song of the Wind), Sawai allows the two performers a good deal of flexibility in their respective parts for koto and cello. He felt that musically, this represents the freedom of the ever-changing wind.
Zansho no toki (A Time of Afterglow)
Like Kosaku Yamada before him, Maki Ishii (1936–2003) traveled to Berlin in his twenties to continue his musical education. Following his studies of serialism and European avant-garde techniques of the 1950s and 1960s, Ishii turned his attention to Japanese traditional music in the late 1960s. From that time forward, his creative endeavors were rooted in an attempt to bridge two musical worlds by employing both European compositional methods and elements from the sound world of Japanese traditional music. Zansho no toki (A Time of Afterglow) is a highly virtuosic work that explores the limits of tone color and extended techniques for koto and violin.
Between Tides
Between Tides is one of the last pieces that Toru Takemitsu (1930–1996) based on water imagery, an important feature of his music throughout his career. Rhythmically undulating phrases suggest the movement of tides and lend an improvisatory and narrative feel to the work. The harmonic language of the composition seems to draw from a stunning blend of influences, including neo-Romantic tertian harmonies and more complex sonorities reminiscent of Duke Ellington or French composer Olivier Messiaen, two prime influences on Takemitsu's music.
Performers
Masayo Ishigure, koto
Masayo Ishigure, koto, began playing the koto and jiuta shamisen at the age of five in Gifu, Japan. After initial studies with Tadao and Kazue Sawai, she became a special research student in 1986 at the Sawai Koto Academy of Music, an institution dedicated to broadening the repertoire for koto to include styles of music from many cultures. Two years later Ishigure received a degree in Japanese traditional music at Takasaki Junior Arts College with a concentration on koto and shamisen, and she later appeared on the recording The World of Tadao Sawai (2005). She also recorded Sawai's music on Tori no Yoni (Flying Like a Bird, 1994) and music by anime filmmaker Hayao Miyazaki on the CD East Wind Ensemble (2003).
Since arriving in New York City in 1992, Ishigure has performed at Lincoln Center, Carnegie Hall-Weill Recital Hall, BAM, Merkin Hall, Trinity Church, and Symphony Space. In addition to performing at Harvard, Yale, Princeton, and Columbia universities, she was a guest artist with the San Diego and New Haven symphony orchestras, and she has appeared in concerts for the World Music Institute, Japan Society, Music From Japan, and China Institute. In 2001 and 2005 she performed with koto master Kazue Sawai at the Freer Gallery of Art. She has been featured in two public television broadcasts—Music under New York and World of Music—and she recorded koto music for CBS Masterworks for the 1998 Nagano Winter Olympics. From 1992 to 2006 Ishigure was artist-in-residence and taught koto and shamisen at Wesleyan University in Connecticut, where she formed the Wesleyan Koto Ensemble. She recorded music for the soundtrack of the film Memoirs of a Geisha by John Williams in 2005 along with Itzhak Perlman, Yo-Yo Ma, and others.
Theresa Salomon, violin
Violinist Theresa Salomon, a native of Germany, came to New York in 1993. She has performed at such international festivals as Festival Presence, Paris; Gulbenkian Festival, Lisbon; Prague Spring Festival; Ostfriesland Festival, Germany; Connecticut Early Music Festival; and Ostrava Days for New Music (Czech Republic), where she was
a soloist with the Janácek Philharmonic. In New York she performs on both period and modern violin with the Orchestra of St. Luke's, Rebel Baroque Orchestra, New York Collegium, and SEM Ensemble. She also directs a new music series at Music under Construction and plays frequently for Dance under Construction. Salomon has recorded for the Vandenburg and Tzadik labels, among others.
James Wilson, cello
Cellist James Wilson has performed at Lincoln Center, Carnegie Hall, the Kennedy Center, Casal's Hall in Tokyo, and the Sydney Opera House. As recitalist and chamber musician, he has performed at music festivals around the world, such as the Hong Kong Arts Festival, the City of London Festival, the Deutsches Mozartfest in Bavaria, the Mostly Mozart Festival in New York, and the Aspen Music Festival in Colorado. Wilson has collaborated with such renowned artists as violinist Joshua Bell, flutist Eugenia Zukerman, pianist Christopher O'Reily, guitarist Eliot Fisk, actress Claire Bloom, and the Tokyo String Quartet. His worldwide tours as a member of the Shanghai and Chester string quartets included appearances at the Freer Gallery of Art. Wilson's performances have been broadcast on West German Radio and Bavarian Radio in Germany, CBC radio in Canada, and CBS television and National Public Radio in the United States. He has recorded for the Delos and Music Masters labels. Championing musical works from all periods and a devoted advocate for arts education, Wilson has served on the faculties of the University of Richmond and Virginia Commonwealth University, and he has led master classes in Hong Kong, Toronto, Los Angeles, and Mexico. He is currently the artistic director of the Richmond Festival of Music and a visiting artist-in-residence at the University of Michigan in Ann Arbor.
Kathryn Woodard, piano
Pianist Kathryn Woodard performs programs that explore cross-cultural exchange in music. Her concerts have taken her to China, Korea, Turkey, and Kyrgyzstan, where she was the first pianist to perform the music of Henry Cowell, John Cage, and Frederic Rzewski. She has collaborated with the Crow Collection of Asian Art in Dallas, the Museum of Fine Arts in Houston, the Asia Society Texas, the New Orleans Museum of Art, and the Detroit Institute of Arts, offering concerts in conjunction with art exhibitions, gallery openings, and symposia. Woodard has curated several international music residencies at Texas A&M University, where she is on the faculty, and she recently launched Sonic Crossroads, a music initiative that explores processes of musical exchange around the globe. A strong advocate for new music, Woodard has worked with the new music ensemble eighth blackbird and composers Karlheinz Stockhausen, Yehudi Wyner, Ge Gan-ru, and Huang Ruo. Her recording of Four Studies of Peking Opera by Ge Gan-ru with the Shanghai Quartet was released on New Albion Records; they performed the work at the Freer Gallery in 2005. She has published in Comparative Studies of South Asia, Africa, and the Middle East and Sonic Meditations, and she was a consultant for Yo-Yo Ma's Silk Road Project.
Explore this podcast
View related images
View a slide show of related artwork from our collections
More concert series podcasts
---
Podcast Series
Concerts
Storytelling
Lectures
---
Subscribe to this Series

RSS

iTunes
---
About Podcasts
About podcasting and how to get started


Tell us what you think
---
Radio Asia
Explore music from all across Asia with Radio Asia, a stream of complete tracks from the collections of Smithsonian Global Sound
---
Most Recent Podcasts
Musicians from Marlboro I
Music of Toru Takemitsu and Tan Dun: Ralph Van Raat, piano
The Legacy of Yatsuhashi
The Traveler's Ear: Scenes from Music
Western Music in Meiji Japan: Gilles Vonsattel, piano
Western Music in Meiji Japan
The Art of Afghan Music
Painting with Music: Bell Yung, qin
Sounds from Arabia
Tarek Yamani Trio