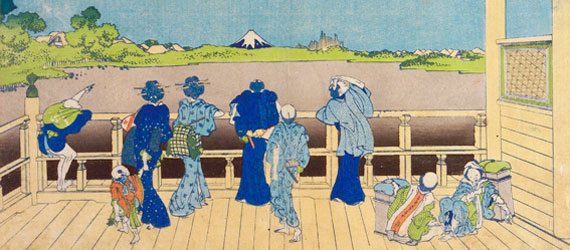 Whistler and Music—Ieva Jokubaviciute, piano
Listen Now download Subscribe (itunes) Subscribe (rss) help


This concert, by the young Lithuanian-born pianist Ieva Jokubaviciute, was recorded as part of the Bill and Mary Meyer Concert Series at the Freer Gallery of Art on March 4, 2004.
PROGRAM
Claude Debussy
Preludes, Book II (1913)
Brouillards
Preludes, Book I (1904–1910)
Les sons et les parfums tournent dans l'air du soir
La fille aux cheveax de lin
Des pas sur la neige
L'Île Joyheuse
Frédéric Chopin
Nocturne in E-flat Minor, op. 55, no. 2 (1842–44)
Nocturne in C Minor, op. 48, no. 1 (1841)
Ballade no. 3 in A-flat Major, op. 47 (1841)
NOTES ON THE PROGRAM
Whistler and Music
"Nature contains the elements, in color and form, of all pictures, as the keyboard contains the notes of all music."
—James McNeill Whistler, "Ten O'Clock Lecture"
February 20, 1885
American expatriate painter, printmaker, and polemicist James McNeill Whistler (1834–1903) is occasionally described as an impressionist, a term applied not only to a group of nineteenth-century painters but also to "painterly" French music of the time. Whistler was friendly with several of the impressionist painters and sometimes exhibited with them, but he did not ally himself with the group and sometimes scoffed at the term. Although Whistler shared the impressionists' interest in depicting urban settings, he differed sharply from the group in his aesthetic philosophy and move toward abstraction.
Whistler used musical terms in his paintings' titles: symphonies, arrangements, harmonies, nocturnes. According to his friend and fellow artist Mortimer Menpes, however, Whistler "had no sense of music, absolutely none." Whistler himself stated that "it is an accident that I happened upon terms used in music." He was, though, familiar with philosophical arguments maintaining that music was the highest art form, since it escaped the concrete imagery produced by language. By appropriating music, Whistler suggested that the people, places, and things in his paintings were unimportant accidents. The only part that really mattered was the effectiveness with which he organized color and line into a harmonious and therefore beautiful whole.
Whistler fully embraced the idea of "art for art's sake." He thought that art should "stand alone, and appeal to the artistic sense of eye or ear, without confounding this with emotions entirely foreign to it." Formal considerations were more important than narrative content; Whistler wanted his public to attend to the painting itself. His abstract musical titles helped him achieve this aesthetic focus and satisfy his provocative nature.
Although Whistler was not musical himself, he was surrounded by music from an early age. His sister, Deborah Whistler Haden, is said to have studied with Clara Schumann; in one of Whistler's most important early paintings, At the Piano (1859, Taft Museum, Cincinnati, Ohio), he shows his sister seated at the piano in her London home. And in the 1890s Whistler was an important member of the French symbolist poet Stéphane Mallarmé's "Tuesdays," weekly gatherings in Paris where he was in contact with Claude Debussy.
—Kenneth Myers
Debussy's Preludes
Of all the composers whose work was performed in this concert (including Franz Schubert and Gabriel Fauré, who are not featured in the podcast), Claude Debussy (1862–1918) is the only one to have had firsthand knowledge of Whistler's art. Both Debussy and Whistler frequented the poet Stéphane Mallarmé's Tuesday-evening gatherings in Paris. A great admirer of Whistler's work, Debussy was said to have owned some of the artist's prints, and was even dubbed by the symbolist group as "the Whistler of music."
After traveling to London to see an exhibition that included several of Whistler's nocturnes, Debussy immediately set to work on three nocturnes for solo violin and orchestra. In 1894 Debussy wrote the following, in true Whistlerian vocabulary, to violinist Eugene Ysaÿe about the work, which he eventually abandoned: "It is rather an exploration of the different arrangements which color can produce, rather like a gray study in painting." Between 1897 and 1899 Debussy went on to compose three nocturnes for orchestra—studies in particular shades of tone color, just as Whistler set out to do in his nocturnes.
As Whistler gave musical titles to his paintings, Debussy gave visual titles to his musical compositions, including images, sketches, estampes (prints), and scenes along with nocturnes. The appropriation of visual imagery was not intended to suggest that his music evoked a definite pictorial landscape. Rather, his purpose was to suggest the atmosphere or mood that an image brings forth in the imagination. Debussy wrote that music is destined "not to reproduce nature to a greater or lesser extent, but to create a mysterious harmony between nature and imagination."
For Debussy, the piano was "like an artist's palette, employed for sketches." In the early 1900s he wrote two books containing a total of twenty-four preludes, bringing these short compositions to their highest point of development within the tradition started by Chopin. Debussy thus paved the way for the twentieth century's exploration of explosive minutiae.
Several of these preludes can be heard in this podcast, many of which highlight Debussy's relationship with visual art. Brouillards is a Whistlerian sketch filled with moments of "luminosity in a fog of tonalities." Les sons et les parfums, taken from Charles Baudelaire's poem Harmonie du soir, did as much as any other to (inaccurately) affix the term "impressionism" to Debussy's music. Debussy said that the basic rhythm of Des pas sur la neige "should have the aural value of a melancholy, snowbound landscape." La fille aux cheveux de lin was inspired by Charles Marie René Leconte de Lisle's poem Chanson ecossaise.
L'Île Joyeuse of 1904 is a musical evocation of Jean-Antoine Watteau's famous painting Embarquement pour Cythère. L'Île Joyeuse is one of Debussy's most extroverted works. In a letter to his publisher, the composer remarked that it "seems to assemble all the ways to attack a piano since it unites force and grace."
Chopin's Nocturnes
A nocturne is traditionally music to be performed at night. The piano nocturne is characterized by a melody in the right hand and accompaniment in the left, habitually presented in highly sectionalized formal designs. Irish composer John Field (1782–1837) fathered this musical form, publishing his first nocturne in 1812. It was Frédéric Chopin (1810–1849), however, who transformed the nocturne from a work of relaxed, improvisatory character to one of increasing intensity and drama.
Whistler's patron Frederick Leyland was particularly fond of Chopin's music and suggested the title "nocturne" for Whistler's "moonlights," or nightscapes. Whistler was thrilled with Leyland's title and applied it to his most abstract and least representational paintings: the series of nocturnes that he painted between 1871 and the early 1880s.
Chopin represented the paradigm of the virtuoso-composer who graced the salons. While Chopin accepted the stylistic framework of salon music, he went on to elevate this tradition to unprecedented levels. Like Fauré, Chopin built upon the nocturne form, ultimately transcending it to create his own "night music." He deviated from the prevailing "brilliant style" by introducing a long-range harmonic vision. In his later nocturnes (op. 48 and op. 55, for example), the forms evolve throughout the entire work, with the middle sections much more closely related to the outer sections.
The examples heard in this podcast exemplify different stages in Chopin's development of the nocturne. The intimate mood or lament of Nocturne in E-flat Minor, op. 55, no. 2, marks the first composition in which Chopin uses extensive counterpoint. Nocturne in C Minor, op. 48, no. 1, is a thorough departure from the traditional nocturne style, featuring unprecedented harmonic freedom and mobility—as well as elements of the funeral march. Ballade no. 3, op. 47, is concerned with processes of thematic transformation. The work culminates in a remarkable fusion of two initially separate themes into a single melody.
—Christopher Zimmerman
ARTIST
A 2006 Borletti-Buitoni Trust fellowship recipient, Lithuanian pianist Ieva Jokubaviciute recently made her Chicago Symphony Orchestra debut at the Ravinia Festival, under the baton of James Conlon. Along with this concert at the Freer, she has recently performed in the Dame Myra Hess Memorial Concert series in Chicago; at the Metropolitan Museum of Art, Carnegie Hall, and Rockefeller University in New York City; and in cities including Vilnius, Lithuania, Panama City, Panama, and Rio de Janeiro. She also has toured with the Musicians from Marlboro and been a guest artist on National Public Radio's Performance Today. Jokubaviciute regularly appears at the Marlboro, Ravinia, and Bard festivals; Prussia Cove in England; and La Lointaine in France. She earned degrees from the Curtis Institute of Music and Mannes College of Music, and her principal teachers have been Seymour Lipkin and Richard Goode.
Explore this podcast
View Concert Photos
More concert series podcasts
---
Podcast Series
Concerts
Storytelling
Lectures
---
Subscribe to this Series

RSS

iTunes
---
About Podcasts
About podcasting and how to get started


Tell us what you think
---
Radio Asia
Explore music from all across Asia with Radio Asia, a stream of complete tracks from the collections of Smithsonian Global Sound
---
Most Recent Podcasts
Musicians from Marlboro I
Music of Toru Takemitsu and Tan Dun: Ralph Van Raat, piano
The Legacy of Yatsuhashi
The Traveler's Ear: Scenes from Music
Western Music in Meiji Japan: Gilles Vonsattel, piano
Western Music in Meiji Japan
The Art of Afghan Music
Painting with Music: Bell Yung, qin
Sounds from Arabia
Tarek Yamani Trio