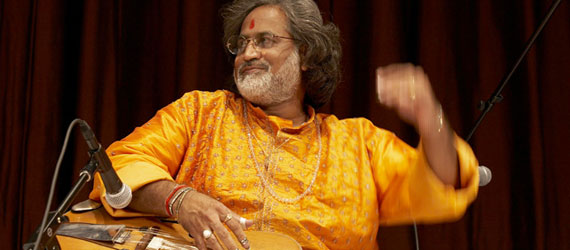 North Indian Classical Music: Vishwa Mohan Bhatt, mohan vina; Subhen Chatterjee, tabla
Listen Now download Subscribe (itunes) Subscribe (rss) help


PROGRAM
Vishwa Mohan Bhatt, mohan vina
Subhen Chatterjee, tabla
March 28, 2008
Part 1 of 2:
Rag Puriya Kalyan (0:00–1:08:15)
Alap—Jor—Jhala; mohan vina solo
Slow Gat (composition); tintal (16 beats); mohan vina with tabla
Fast (Drut) Gat; tintal
Jhala; tintal
Part 2 of 2:
a. Rag Desh (0:00–15:25)
b. Rag Kirwani (16:00–32:03)
c. Meeting by the River (V. M. Bhatt) (32:40–50:47)
PERFORMERS
Vishwa Mohan Bhatt
Winner of the Grammy Award in 1994, Vishwa Mohan Bhatt is a leading disciple of Ravi Shankar. His instrument, the mohan vina, is an original adaptation of the Hawaiian guitar, featuring fourteen additional strings, enabling him to incorporate playing styles from other Indian instruments such as the sitar, sarod, and vina.
He was born into a musical family in Rajasthan in 1952 and began his musical training under his father, who ran a music school. His first original instrument was adapted from a Spanish guitar he found at the school, to which he added drone and sympathetic strings. He currently uses a polished steel rod for the slide and the wire mizrabs of a sitar for the pick.
Vishwa Mohan Bhatt began recording in India in 1970 and later toured with Ravi Shankar, appearing on his recording, Inside the Kremlin (1989). He has performed Indian classical music around the world, including concerts in Canada, Great Britain, Germany, Spain, France, Italy, Netherlands, Belgium, Scotland, Switzerland, Denmark, the United States, the Middle East, and the former Soviet Union.
He has also collaborated with such Western artists as Taj Mahal, Béla Fleck, and Jerry Douglas, with his greatest fame coming after the Grammy Award for his collaboration with American guitarist Ry Cooder. Their recording, A Meeting by the River, received the Grammy for best world music album in 1994. He subsequently appeared as part of Eric Clapton's 2004 Crossroads Guitar Festival. In India, he has received some of the country's highest music awards, including the Sangeet Natak Akademi Award in 1998 and Padma Shri in 2002.
Subhen Chatterjee
Subhen Chatterjee is considered one of the finest tabla players of this generation. He has accompanied such leading soloists as Bhimsen Joshi, Girija Devi, Jasraj, Pt. V. G. Jog, Rashid Khan, Shahid Parvez, Viswa Mohan Bhatt, Ashish Khan, Manilal Nag, and Ali Ahmed Hussain Khan, among others.
He bases his style on the Lucknow gharana (school), which he learned from his guru, Swapan Chowdhury. He incorporates other gharana into his performances as well.
Subhen Chatterjee has participated frequently in the international WOMAD (World Music and Dance) festival, founded by guitarist Peter Gabriel, where he has collaborated with flutist Paul Horn, David Cosby, and others. Subhen created one of India's leading fusion bands, Karma, in 1985. His recent collaborations with percussionist Sivamani led to the formation of Friends of Drums, which helps emerging musicians share the stage with more accomplished artists.
Explore this podcast
See images from this performance
View related artwork from our collections
---
Podcast Series
Concerts
Storytelling
Lectures
---
Subscribe to this Series

RSS

iTunes
---
About Podcasts
About podcasting and how to get started


Tell us what you think
---
Radio Asia
Explore music from all across Asia with Radio Asia, a stream of complete tracks from the collections of Smithsonian Global Sound
---
Most Recent Podcasts
Musicians from Marlboro I
Music of Toru Takemitsu and Tan Dun: Ralph Van Raat, piano
The Legacy of Yatsuhashi
The Traveler's Ear: Scenes from Music
Western Music in Meiji Japan: Gilles Vonsattel, piano
Western Music in Meiji Japan
The Art of Afghan Music
Painting with Music: Bell Yung, qin
Sounds from Arabia
Tarek Yamani Trio