Podcasts
Listen Now download Subscribe (itunes) Subscribe (rss) help
Marlboro Musicians Perform Mozart, Earl Kim, and Fauré
Violinist Hye-Jin Kim, first-prize winner at international competitions of the Yehudi Menuhin and Concert Artists Guild, performs an engaging variety of works for soprano, piano, and strings by Mozart, Fauré, and Earl Kim. Joining her for this program are other virtuosos from the renowned Marlboro Music Festival: soprano Sarah Shafer, violinist Danbi Um, violists Rebecca Albers and Shuangshuang Liu, cellist Peter Stumpf, and pianist Kuok-Wai Lio. This concert was recorded in 2015 as part of the Meyer Concert Series.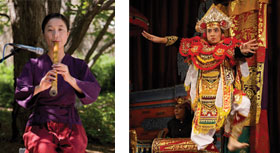 Podcast Series
Concerts
Storytelling
Lectures
---
Most Recent Podcasts
Musicians from Marlboro I
Music of Toru Takemitsu and Tan Dun: Ralph Van Raat, piano
The Legacy of Yatsuhashi
The Traveler's Ear: Scenes from Music
Western Music in Meiji Japan: Gilles Vonsattel, piano
Western Music in Meiji Japan
The Art of Afghan Music
Painting with Music: Bell Yung, qin
Sounds from Arabia
Tarek Yamani Trio
---
About Podcasts
About podcasting and how to get started


Tell us what you think
---
Radio Asia
Explore music from all across Asia with
Radio Asia
, a stream of complete tracks from the collections of
Smithsonian Global Sound
.